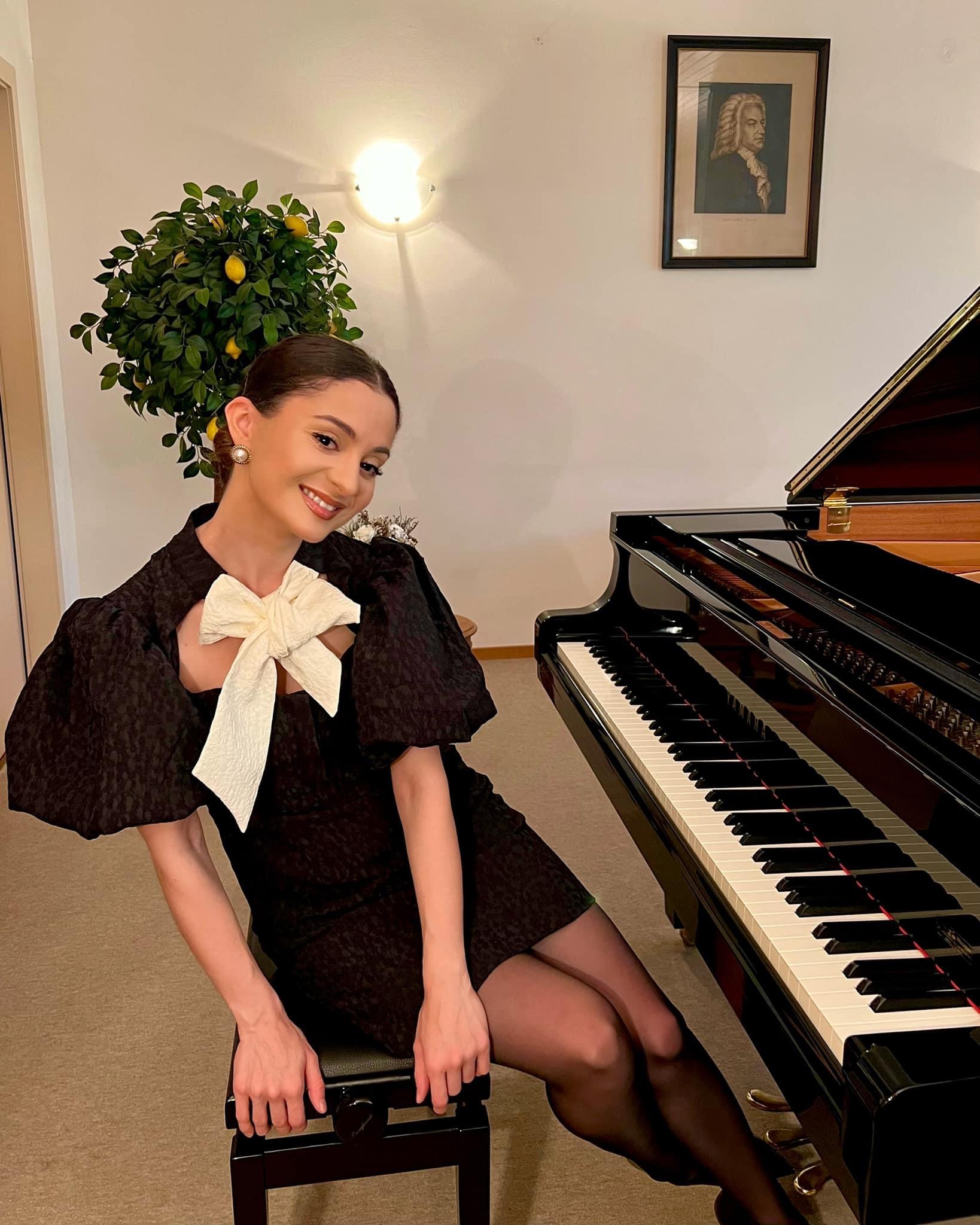 Nino Kupreishvili (Piano)
Nino Kupreishvili (born on 22.09.1993 in Tbilisi, Georgia) at the age of five began her studies at the Z. Paliashvili Central Music School (class of prof. Lali Sanikidze). Which she graduated in 2011 with great success and in a same year continued her studies at BA at the V. Sarajishvili Tbilisi State Conservatoire (class of prof. Lali Sanikidze). Nino has studied at the famous Imola International Piano Academy "Incontri Con Maestro" with proff. Boris Petrushansky.
She is a participant of various international festivals and laureath of republic and international piano competitions. Received various diplomas for participating in different musical projects. Has received master classes from Elizabeth Sombart, Boris Berman, Elisso Virsaladze, Siegfried Mauzer, Temur Akhobadze, Alexander Toradze, Eter Anjaparidze, Marek Slezer, Karl-Andreas Kolly, Hans-jurg Strub, Michael Lauschner.
In 2004, she won 2nd prize at the International Piano Competition "Konzerteum-95" in Greece. She's the winner of 1st prize and two special prizes: "Audience Award" and "Press Prize" at the International Piano Competition for young musicians in Enschede, the Netherlands. In 2009 she became a finalist and received special prize of Public Symphathy at the Internatonal Music Competition for Young People in Oldenburg, Germany. In a same year she had a concert tour in the Netherlands and Poland. She made her Polish debut with Poznan Philharmonic Orchestra and maestro Gaetano d'Espinosa (the concert was dedicated to 160 years anniversary from the death of F. Chopin)
In 2010 she held two recitals at the International Music Festival "Oldenburger-Promenade" in Oldenburg, Germany. Received a special prize at the music festival "Musica.Sepashvili". In December 2010, won 3rd prize at the F. Chopin Piano Competition in Tbilisi, Georgia.
In August of 2011 and 2012 spent two weeks in Weidenkam Castle (Bayern,Germany) and received master classes from prof. Hans-Jurg Strub and took part in a final concerts of Master Courses.
Performed Liszt, Chopin's both concertos with Tbilisi Opera, E. Mikeladze symphony, Tbilisi Symphony Orchestras.
In April,2013 won 4th Prize at the S. Rachmaninov International Piano Competition for Young Pianists in Frankfurt, Germany. Received Georgian National Scholarship (given to only one student in year). Played recital in Turkey.
During years she has been a scholarship holder of Catholicos Patriarch Ilia II, Edisher Savitski, International foundation "Vivace" (Switzerland), Z. Paliashvili grants.
Since 2014, she's taking regular lessons with Elizabeth Sombart at CCIPR Fondation Resonnance, Switzerland.
In 2015, with invitation of Resonnance Lebanon,she has performed Rachmaninoff's second piano concerto in Beirut with Lebanese National Symphonic Orchestra.
In 2016, she has made her first studio recording at worlds famous Abbey Road Studios in London, with Royal Philharmonic Orchestra. She has performed at Salle Cortot, in Paris, Steinway Hall in Lausanne and different venues in Rome.
In 2017, she has performed at the S. Rachmaninoff Russian Conservatory in Paris and with Budweis Philharmonic Orchestra in Bienne, Switzerland.
In 2018 she played at annual concert of the Foundation Resonnance Romania, at the Romanian Athenaeum in Bucharest.
"I had the good fortune to meet Nino and to be on stage with her in Poznan. The audience, the orchestra and I appreciated and enjoyed her sensitive, accurate and astonishing mature of playing. She is, in my opinion, not only a very talented pianist, but also already a musician though and though. Listening to her playing, was for me a very special experience" -Gaetano d'Espinosa, Conductor.
In 2019, she successfully obtained her master's degree of Concert performance at the Haute Ecole de musique de Lausanne, class of prof. Christian Favre.
In August 2021, Nino was invited to perform at the international piano festival "Piano à Saint-Ursanne", in Saint-Ursanne, Switzerland.
Since 2019 until 2023, Nino was a professor of piano at the Foundation Resonance in Morges, Switzerland.
Nino continues active concert life as a pianist soloist and is passionate about performing with other musicians, too. Since 2021 she has been giving concerts with the Swiss cellist Constantin Macherel.
Turpis elementum, ultrices dui maecenas quisque cras dui sed porttitor aliquam morbi libero egestas lacus sed.
Vestibulum vitae mattis turpis fusce aliquam eu aliquam
Non ut consequat hendrerit neque at
Praesent et lectus eleifend feugiat placerat
Lorem et fermentum mauris vitae sit
Suspendisse rutrum consequat imperdiet tellus sed
Pellentesque pulvinar ultrices morbi at nunc
Imperdiet egestas justo nunc, nunc sed consequat
Non ut consequat hendrerit neque at
Viverra luctus in habitant arcu placerat consectetur
Lorem et fermentum mauris vitae sit
Velit lacus porttitor urna vitae
Pellentesque pulvinar ultrices morbi at nunc